Industry Reports
Great Wall Machinery Meet with you in Mining 2015 Indonesia
By
Jul 29, 2015 UTC+8
Views:
Tags:

Great

Wall

Machinery

Meet

with

you

in

Mining

2015

Indonesia
2015 Indonesia International Mining and Minerals Recovery Exhibition and Conference to be held on September 9-12 in Jakarta, Indonesia, as an international cement engineering EPC project integrated service supplier, Xinxiang Great Wall Machinery Co., Ltd was invited to participate in this exhibition, Stand Number is MINB2-4506.
Indonesia International Mining and Minerals Recovery Exhibition and Conference held every two years, It has been successfully held 16 sessions. Indonesia is rich in mineral resources, is the largest economy in ASEAN body. This exhibition will be held, to promote China's mining industry, construction machinery and construction equipment business to further develop the Southeast Asian market, expanding exports is important.
In recent years, the Great Wall Machinery actively expand the international market, The global largest vertical roller mills manufacture Flsmidthand the global largest steelmaker Mittal Group both are our customers. has a high market visibility in the international market and reputation.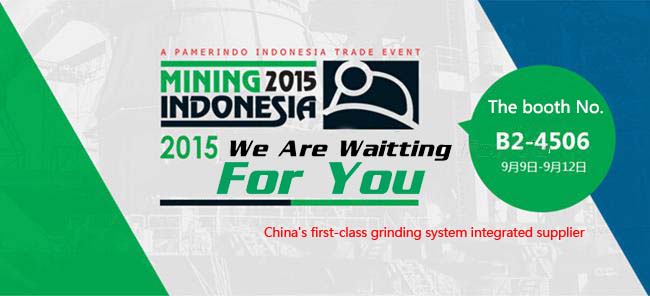 Xinxiang Great Wall Machinery Co.,Ltd built in 1958, using the world's most advanced vertical mill technologies, to develop a significant energy-saving, low-carbon GRM series vertical mill. Great Wall Machinery with the domestic industry first 600,000 tons of slag powder demonstration training base and industrial waste (slag, slag, etc.) R & D center, with a large machining capacity and large casting capability, and launched a unique "one stand grinding, eight service "EPC general contracting services.
At present, the Great Wall in the domestic construction machinery has more than 70 production lines slag, has undertaken to complete the Shanghai Baoshan Iron and Steel, Hebei Iron and Steel Australia Sen Xuzhou southeast annual 20-150 million tons of cement and steel / slag turnkey project
This exhibition, Great Wall Machinery will introduce "0 design" Four Points "4 new family of devices", "signing a 5% discount", "100% of the total package construction", the exhibit large steel castings and cement equipment and other products, the Great Wall of R & D results demonstrate mechanical, and take this opportunity to strengthen exchanges and cooperation with the industry, in-depth insight into market patterns, improving product competitiveness and expand foreign markets.
Customer satisfaction is our eternal pursuit, Great Wall Machinery to new and old customers, domestic and foreign friends, colleagues work together, sincere cooperation, create brilliant! Welcome friends to visit study guide!