Company News
Compact and Efficient main drive of Rotary Kilns
By Gaby
May 21, 2015 UTC+8
Views:
Tags:

Rotary Kilns drive

main drive of rotary kiln
Either single, double or triple reduction gearboxes are used, depending on the torque to be transmitted.These are the most common types of drive for rotary kilns because they have a high degree of efficiency and long-term economical design.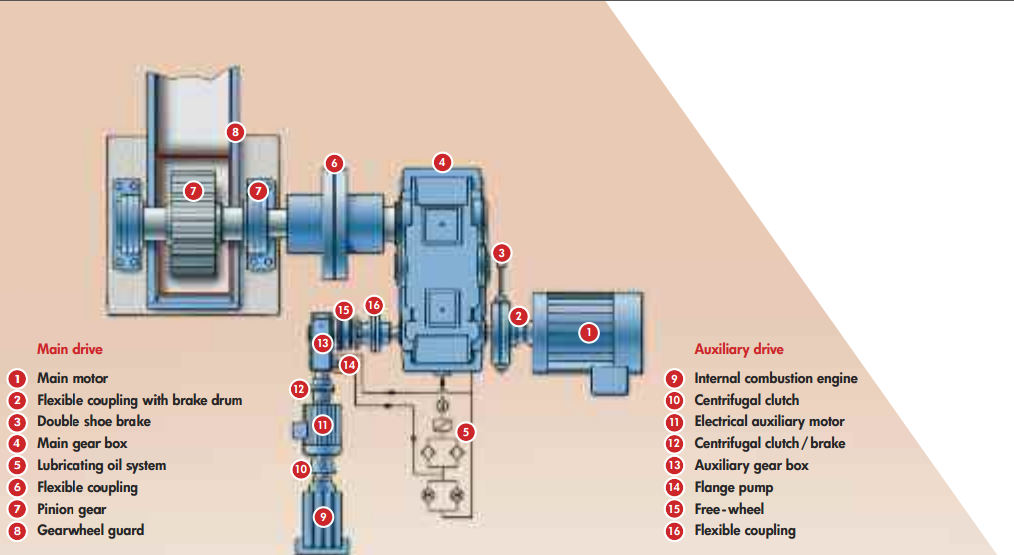 Nothing can shake them
The even, smooth operation of the kiln and optimal contact pattern with the pinion is achieved by mounting the girth gear on the kiln shell using tangential springs. The centered action of the girth gear is adjustable.
One special feature of the gear drive, as a single drive with two pinions,
is that it can operate with only one main motor. This type of drive is often
used to increase productivity using the existing girth gear.
This variant, which was developed by Great Wall Machinery, has two
positive advantages:
• no additional foundation is necessary for a second drive unit
• each pinion transmits precisely half of the torque
Feel free to create friction
alternatively, it's possible to transmit the drive torque from the rollers to the tire. this type of drive is only suitable for two station kilns. the characteristics of both types of drive are listed in the adjacent table. hydraulic drives – acting directly or via gears on the driven shaft – also permit smooth kiln operation but are less efficient. this is why they are also considerably less economical.

learn more by video(check here )