Industry Reports
Design advantages of GRMR limestone vertical grinding mills
By
Sep 30, 2021 UTC+8
Views:
Tags:

limestone grinding mill

limestone vertical mill

limestone vertical grinding mill
Limestone is a ubiquitous mineral resource in nature. It is a widely used non-metallic mineral material. After limestone is ground into fine powder, it is widely used in modern industries such as cement, environmental desulfurization, glass, papermaking, paint, coatings, and feed. With the rapid advancement of the industrialization process and the strict constraints of environmental policies, desulfurization facilities have become a must for coal-fired projects. Limestone is widely used as a desulfurizer due to its inherent chemical properties.
Advantages of
GRMR limestone vertical mill
manufactured by Xinxiang Great Wall Machinery (CHAENG): grinding high-fine limestone powder, the system runs efficiently and stably and saves external heat sources.
Compared with other limestone grinding systems, the vertical mill system can reduce power consumption by 20%-40%. The single-machine production capacity can be increased by 10 times compared with the Raymond mill, which can well meet the needs of large-scale industrial production of high-fine limestone powder.
| | | | |
| --- | --- | --- | --- |
| Projects | Vertical Roller Mill | Ball Mill | Raymond Mill |
| Model | GRMS34.3 | φ4.0×11m | HGM4528 |
| Finished product | 325 mesh, D90 | 325 mesh, D90 | 325 mesh, D90 |
| Capacity | 70t/h | 35t/h | 7 t/h |
| Power consumption | 32kwh/t | 55kwh/t | 50kwh/t |
| Feeding size | 95%≤30mm Max.40mm | ≤25mm | ≤10mm |
| Main motor power | 1400kw | 1500kw | 132kw |
| Total power | 2930kw | 2200kw | 400kw |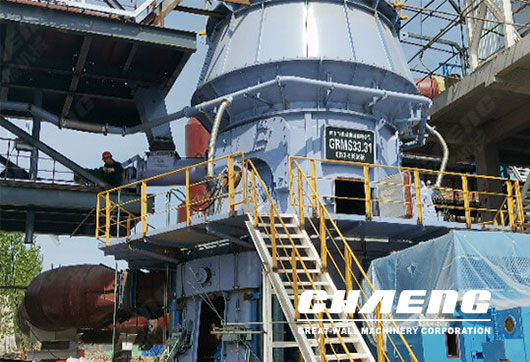 1. Design plan requirements: The vertical roller mill uses the material bed grinding principle to grind materials, and has the advantages of large single machine production capacity, simple process flow, high grinding efficiency, energy saving and environmental protection.
2. Design of grinding table speed and grinding roller size
The material falling in the center of the grinding table is moved to the edge of the grinding stable by centrifugal force under the action of the rotation of the grinding table.
3. Adjust the wind speed control of different parts
4. Optimize the structure of the separator