Industry Reports
current management options for steel slag and what can we do ?
By
Oct 15, 2019 UTC+8
Views:
Tags:

steel slag mill

slag grinding plant
Recycling
It is estimated that between 7.0 and 7.5 million metric tons (7.7 to 8.3 million tons) of steel slag is used each year in the United States. The primary applications for steel slag in the United States are its use as a granular base or as an aggregate material in construction applications.
Disposal
While most of the furnace slag is recycled for use as an aggregate, excess steel slag from other operations (raker, ladle, clean out, or pit slag) is usually sent to landfills for disposal.
MARKET SOURCES
Steel slag can normally be obtained from slag processors who collect the slag from steel-making facilities. Slag processors may handle a variety of materials such as steel slag, ladle slag, pit slag, and used refractory material to recover steel metallics. These materials must be source separated, and well-defined handling practices must be in place to avoid contamination of the steel slag aggregate. The slag processor must also be aware of the general aggregate requirements of the end user.
The processing of steel slags for metals recovery is not only important to remove excess steel at the market source for reuse at the steel plant, but is also important to facilitate the use of the nonmetallic steel slag as construction aggregate. This nonmetallic slag material can either be crushed and screened for aggregate use (steel slag aggregates), or sintered and recycled as flux material in the iron and steel furnaces.
Steel slag aggregates generally exhibit a propensity to expand. This is because of the presence of free lime and magnesium oxides that have not reacted with the silicate structures and that can hydrate and expand in humid environments. This potentially expansive nature (volume changes of up to 10 percent or more attributable to the hydration of calcium and magnesium oxides) could cause difficulties with products containing steel slag, and is one reason why steel slag aggregates are not suitable for use in Portland cement concrete or as compacted fill beneath concrete slabs.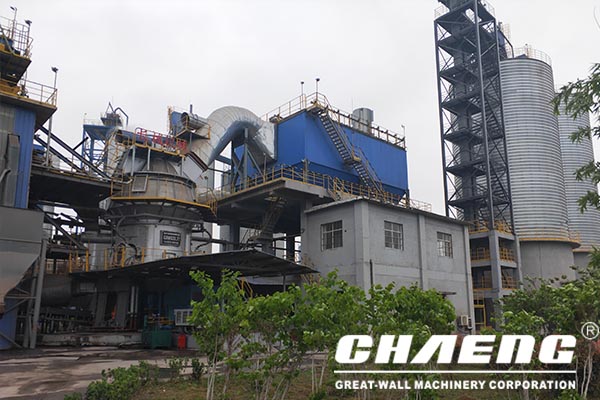 Steel slag destined for use as an aggregate should be stockpiled outdoors for several months to expose the material to moisture from natural precipitation and/or application of water by spraying. The purpose of such storage (aging) is to allow potentially destructive hydration and its associated expansion to take place prior to use of the material in aggregate applications. There is a wide variation in the amount of time required for adequate exposure to the elements. Up to 18 months may be needed to hydrate the expansive oxides.
The GRMSS steel slag vertical mill of CHAENG is a kind of special equipment for grinding industrial waste such as steel slag and water slag into powder. Integrating crushing, transporting, grinding and drying, the steel slag vertical mill is a kind of ideal equipment for grinding steel slag. The models of CHAENG's GRMS steel slag vertical mill are complete, include GRMSS33.31 GRMSS46.41 GRMSS53.41 and so on, which can meet the needs of the steel slag production line project with an annual output of 200,000-1,500,000 tons.