Industry Reports
What role does the vertical mill play in waste slag production line?
By
Sep 04, 2019 UTC+8
Views:
Tags:

vertical mill

slag production line
Taking the protection of the ecological environment as the starting point, chaeng aims to develop circular economy, adhering to the ecological civilization concept of "respecting nature, adapting to nature and protecting nature", and following the construction concept of "reliable production, advanced technology, saving investment and improving efficiency". Committed to providing metallurgical, cement, commercial and other enterprises with tailor-made industrial waste recycling resources comprehensive utilization of the overall solution.
In recent years, it has successfully handed over Shanghai Baosteel, Pohang Steel, Indonesian Sugang, Mengdian Cement and other well-known domestic and foreign enterprises to complete the construction of 120 slag/steel slag/nickel slag/phosphorus slag micro-powder production line project. The main equipment used by chaeng in these main assembly lines is the vertical mill. Next, Xiaobian introduces you to the role of the vertical mill in the entire production line.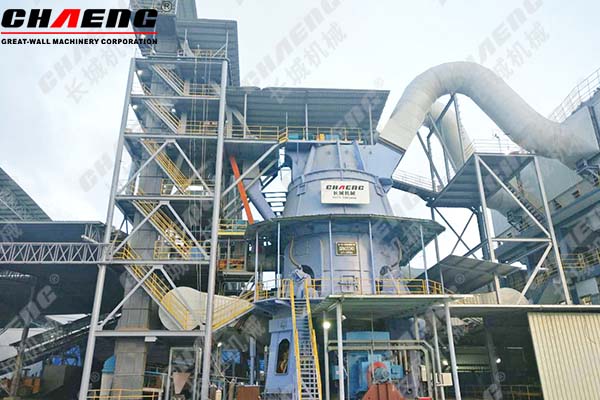 1, grinding
As long as the industrial waste residue refers to some industrial waste produced by the steel slag mill, the overall utilization rate can be improved, and the comprehensive value of building materials, cement, concrete and other fields can be improved. On the other hand, for the environmental protection policy, the treatment of these industrial wastes It is also imminent.
Chaeng GRM series vertical mill integrates fine crushing, grinding, drying, powder selection and conveying. It has high grinding efficiency, large drying capacity, easy adjustment of product fineness, low noise, low power consumption and simple process. It has obvious advantages such as low wear and low operating cost, and can meet the production line of industrial waste slag micropowder production line with an annual output of 200,000 to 1.5 million tons.
2, environmental protection
The vertical mill operating system is in a negative pressure state, no dust spills, and the environment is clean, meeting the national environmental protection requirements. The overall layout of the vertical mill is compact, the floor space is about 50% of the ball mill system, and it can be arranged in the open air, and the investment cost is greatly reduced. It is equipped with PLC/DCS automatic control system, which can be remotely controlled and easy to operate.