Industry Reports
Design Advantages o CHAENG Limestone Vertical Grinding Equipment
By
Dec 25, 2018 UTC+8
Views:
Tags:

Limestone vertical mill

vertical mill cost
Limestone is the most commonly used mineral resource in nature. It is widely used non-metallic mineral material. After ultra-fine grinding, limestone is widely used in modern industries such as cement, environmental desulfurization, glass, paper, paint, paint and feed. . With the rapid advancement of industrialization and the strict constraints of environmental policies, desulfurization facilities have become a must for coal-fired projects. Limestone is widely used as a desulfurizer due to its inherent chemical properties.
In response to the customer's continuous improvement of the fineness of limestone powder, the GRMR non-heat source limestone vertical mill was developed. The structure and performance characteristics of our GRMR vertical mill are explained below!
Chaeng Limestone Vertical Mill has no heat source technology: grinding high-fine limestone powder, the system runs efficiently and stably, it can completely eliminate the external heat source, and reduce the trouble for the enterprise project declaration.
Compared with other ground limestone systems, the vertical mill system can reduce power consumption by 20% to 40%. The single-machine production capacity can be increased by 10 times compared with Raymond mill, which can well meet the needs of large-scale industrial production of high-fine limestone powder.

Comparison project
Vertical roller mill
Ball mill
Raymond mill
Mill specifications
GRMS34.3
φ4.0×11m
HGM4528
Product specifications
325 meshD90
325 meshD90
325 meshD90
Capacity
70t/h
35t/h
7 t/h
Product power consumption
32kwh/t
55kwh/t
50kwh/t
Allowed grinding material size
95%≤30mm
Max.40mm
≤25mm
≤10mm
Main motor power
1400kw
1500kw
132kw
Total installed power
2930kw
2200kw
400kw
Chaeng high-fine limestone grinding process plan will be combined with customer use, with the principle of "reliable production, advanced technology, saving investment and improving efficiency". The equipment selection emphasizes the level of grinding technology and equipment development, and emphasizes the reliability of equipment operation, taking into account advanced factors and saving investment. Unparalleled advantages in all aspects: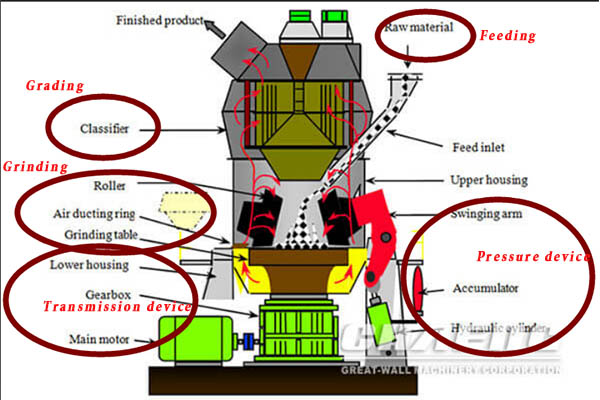 1. Design plan requirements: Vertical mill uses the material bed grinding principle to grind the material, which has the advantages of large single machine production capacity, simple process flow, high grinding efficiency, energy saving and environmental protection.
2, Vertical roller mill grinding disc speed and vertical mill grinding roller size design
The material falling to the center of the grinding disc is moved by the centrifugal force to the edge of the grinding disc under the action of the rotation of the grinding disc. In the process, the grinding roller uniformly distributed in the circumferential direction of the grinding disc is pulverized by multiple forces.
3. Adjust wind speed control in different parts
4. Optimize the structure of the powder separator