Industry Reports
Chaeng slag grinding plant Technical Parameters
By
Jun 14, 2017 UTC+8
Views:
Tags:

Chaeng

slag

grinding

plant

Technical

Parameters
As the important equivalent substitutes for
cement production line
,
slag grinding plant
can not only significantly improve the overall performance of cement and concrete, but also significantly reduce the production cost. Now it has been widely used in cement plant, grinding station and steel factories as a new kind of high effectively admixtures. For this situation, we may say: "who first invests will first benefits."
| | |
| --- | --- |
| Annual Output | 0.2 --1.5 million tons |
| Application Equipment | GRMS slag vertical mill |
| Grinding materials | Blast furnace slag,Steel slag,nickel slag,Manganese slag |
| Matching equipment | Feed belt+Vibrating screen+slag vertical mill+hot blast stove+dust collector+warehouse |
CHAENG (Great Wall Machinery) can undertake 20 tons --1.5 million tons of Blast furnace slag/Steel slag/Nickel slag/Manganese slag powder production EPC projects. Up to now, CHAENG has constructed more than 100 slag grinding production lines at home and abroad.
Process Description
The stacked slag is packed and feed by the forklift trucks, then transported by belt conveyor. During transmission, the slag will pass through the iron separator and vibrating screen, then through the weighing equipment and elevator, and finally come into the vertical roller mill.slag will come through the powder selector and be dried with the hot air form air heating furnace after grinding. Slag that meets the fineness requirement will pass through the separator, then delivered by air blower and elevator, and finally come to the storage silo.
Slag Grinding Plant Workflow Diagram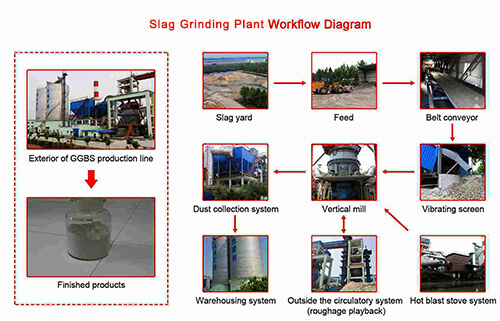 Energy-saving, environment friendly, simple process, high intelligences
Nowadays, the slag vertical roller mills are widely accepted by customers, but some customers may still doubt about the vertical roller mill and ball mill. By doing research in more than 10 factorys of customers , we have summed up these difference between two kinds of mills.

Vertical mill and ball mill process contrast
| | | |
| --- | --- | --- |
| system scheme | ball mill | vertical roller mill |
| system power consumption (kWh/t) | 80 | 38 |
| Ratio of water to dry (%) | 10 (Separate drying) | 20 (drying in mill) |
| Adaptability of granularity | bad | good |
| The main reasons influencing operation rate | To run a certain cycle ball to remove iron slag | Roller and plate lining repair after abrasion |
| large-scale | difficulty | easy |
Technical Parameters
Equipment selection recommendations:
CHAENG already has more than 100 customers recently, among them, the capacity of 1 million t/a, 600,000 t/a and 300,000 t/a has occupied more than 80%. The sheet below has show the main equipment specs and parameters of these three capacities.
| | | | |
| --- | --- | --- | --- |
| Product Specificationsct | GRMS 53.41 | GRMS 46.41 | GRMS 33.31 |
| Annual production (tons) | 1,000,000 | 600,000 | 300,000 |
| Designed production (t/h) | 150 | 90 | 45 |
| Raw materials input amount (t/h) | 188 | 125 | 65 |
| Actual output (t/h) | 160 | 105 | 55 |
| Final products fineness (m2/Kg) | 500 | 500 | 500 |
| Power consumption (KWh/t) | 26.5 | 28.5 | 30 |
| System power consumption (KWh/t) | 35 | 37 | 42 |
| Coal consumption (equivaient to standard coal) (kg) | 17 | 18 | 18 |
| Metal recovery of per ton slag (%) | 0.2-0.3 | 0.2-0.3 | 0.2-0.3 |