Company News
Chaeng epidemic prevention and control
By
Mar 12, 2020 UTC+8
Views:
Tags:

vertical roller mill

vertical mill
1.the current situation of the epidemic in China (the latest data dates from March 4th, 15:31)
On March 3rd, there were 119 new confirmed cases in 31 provinces and Xinjiang Construction Corps, 38 new deaths and 143 suspected cases.
On March 3rd, there were 2562 patients being cured and discharged from hospital, 6250 close contacts being removed from medical observation. And the severe cases decreased by 390.
Up to March 3rd, 24:00, the latest situation of novel coronavirus pneumonia








Chinese epidemic accumulative tendency chart
2.the situation of work resumption in China
Because of the epidemic, many enterprises constantly delay the date of work resumption. In the condition of the government's strong intervention and there is no returning travelers peak after spring festival in China, so the novel coronavirus pneumonia has been effectively controlled in China. On March 4th, the accumulative cured cases have exceeded the existing confirmed cases. At present, we have stepped into a new stage in controlling and preventing the novel coronavirus pneumonia. According the official statistics, people has began to work and put back on production across the country.
With the epidemic situation in better shape, many enterprises begin to work and put back on production. CHANEG also begins to work while doing a better job in epidemic prevention. On the premise of ensuring the safety and health of employees, on March 2nd, CHAENG has began to work and put back on production comprehensively, so that we can keep production stable, ensure to fulfil the production plan, and guarantee the products can be handed to clients with good quality and on time.
CHAENG has set up the record system for employees who returned to work, established wholesome protection work system, monitored every employee's health everyday, provided the protective materials for every employee, disinfected every areas of the factory(include: lobby, passageway, conference room, workshop, washroom, manufacturing facilities, business places, staff canteen, staff dormitory), arranged the production plan reasonably, established the anti-epidemic measures for every operating post, strengthened the vehicle management policy, and prepared emergency countermeasures if there are something emergent epidemic happens.
Entering the factory with the pass, disinfecting three times a day, distributing masks, disinfecting the outside materials in advance
3.CHAENG always regards social responsibility as an important mission, and we are also keen on public welfare, contribute to the society! At this critical moment when the whole nation is working together to overcome the difficulties, CHAENG will continue to do our best to fight against the the Pneumonia Caused by Novel Coronavirus, and help our country to tide over difficulties! We believe that the cold winter will pass and the warm spring will come!
In order to help Xinxiang city win the battle against the Pneumonia Caused by Novel Coronavirus, on the afternoon of January 29, CHAENG donated 500,000RMB to be used in preventing, controlling and curing the Pneumonia Caused by Novel Coronavirus.

Xinxiang Great Wall Machinery Corporation donated 500,000 Yuan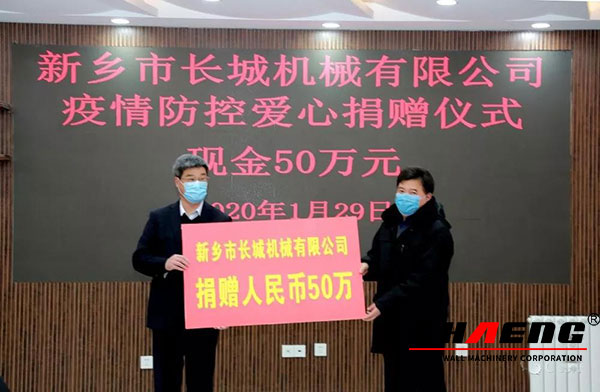 CHANEG has been returning work and resuming production, if you have any requirements in kiln and mill equipment and cement machinery spare parts, please contact with us