Company News
chaeng-returning to work comprehensively, going forward bravely
By
Mar 06, 2020 UTC+8
Views:
Tags:

chaeng

return to work
Xinxiang Great Wall actively complies with the requirements of the Municipal Epidemic Prevention and Control Headquarters' "Notice on Resuming Work and Resuming Production in Industrial Enterprises in the City and Scientifically Preventing and Controlling Epidemics of Reworked Personnel," and actively doing the work of preventing resumption and resumption of epidemic prevention in enterprises. "Xinxiang Great Wall Machinery Co., Ltd.'s epidemic prevention work plan for resuming production and returning workers" has been specially formulated to fully prepare for the internal epidemic prevention and control of the enterprise.
On the afternoon of February 14th, after the on-site inspection and re-check of the company's epidemic prevention and control work by the joint inspection and acceptance team of the city's enterprise resumption and production resumption, it was reported to the Huixian City's new coronavirus-infected pneumonia epidemic prevention and control headquarters for research and agreed Our company resumed work and production on February 15, 2020.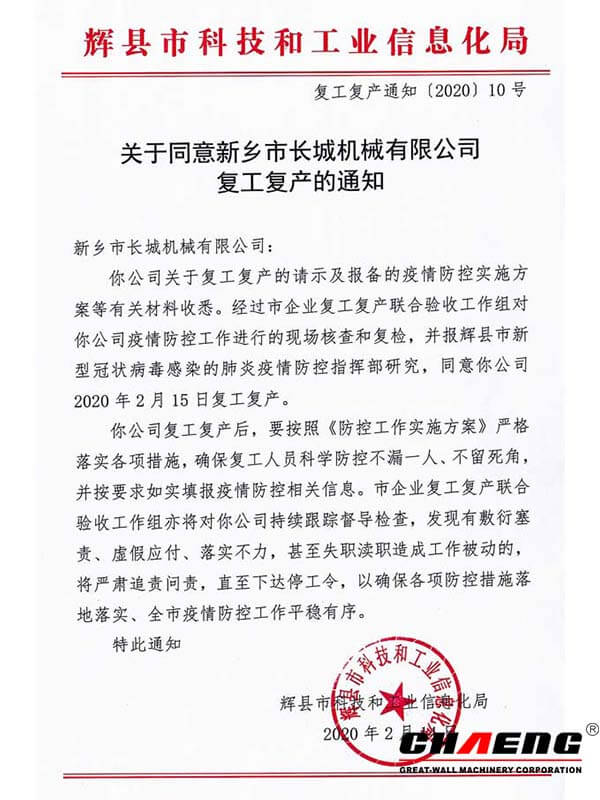 We strictly implement various measures in accordance with the "Implementation Plan for Prevention and Control Work" and fully guarantee the resumption of work:
Establish a company's prevention and control emergency leadership team; strengthen personnel inspection and registration, implement health tracking for employees; reserve sufficient reserves of various emergency materials; strictly implement preventive and control measures after resumption, daily disinfection and ventilation, and urge employees to work in public areas and plant areas Masks must be worn; epidemic prevention education must be done to ensure that prevention and control measures and work requirements are implemented in good faith.
At this point, we have resumed work and resumed normal, steady and orderly production and work.