Company News
CHAENG New-type sandstone production line
By
Nov 29, 2019 UTC+8
Views:
Tags:

sandstone production line

stone crusher
Process introduction
After the ore raw material is coarsely crushed, it is fed into a jaw crusher for primary crushing and screening, and then through the conveyor sequentially enters medium crushing and fine crushing cone crushers. At the meantime, the material of 5-30mm is separated by the screening system and stored in the buffer bin at the top of the sand making machine, and then is sent into four vertical shaft crushers via the feeder. Afterwards it is conveyed by a belt conveyor to the finished screening shop. The material of >20mm is returned to the sand making machine through the belt conveyor for crushing; the material of 10~20mm is stored as the finished product in the finished product shed; the material of 0~5mm enters the washing system through the chute.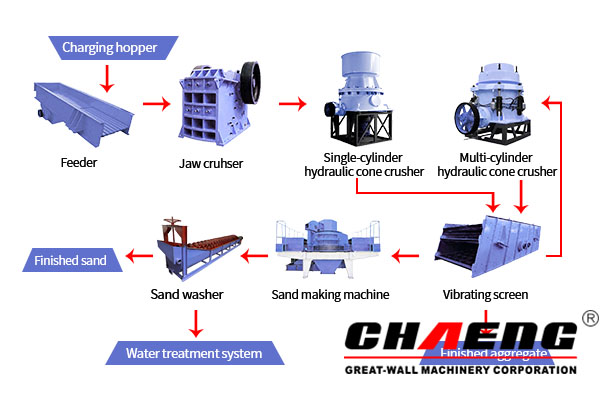 System introduction
Crushing system
In the whole production line, the crushing system is divided into three parts: primary crushing, medium & fine crushing and sand-making crushing.
Primary crushing: 140mm < material fineness≤800mm
Medium & fine crushing: 30mm
sand-making crushing: 5~30mm
Wastewater utilization system
After the sludge-containing wastewater is dewatered by the cyclone and the dewatering screen, the slurry flows into the lifting tank and is transported by the lift pump to the horizontal sedimentation tank. The bottom flow is sent to the sludge tank through the plunger pump, and the upper clear liquid flows into the clear water tank for production use. The slurry in sludge tank is sent to the filter press by the filter press feed pump. After the pressure filtration, the mud cake is transported by the belt conveyor to the yard of the plant, and the filtered water is discharged into the clear water tank for recycling.
Screening system
After the crushing of each part, the material will enter the corresponding material fineness screening system, and is distributed to the corresponding crushing system according to the fineness.
Storage system
Fully enclosed finished product shed without dust leakage can meet the storage requirements of natural sandstone, machine-made sand and finished aggregate.
Washing system
The material of 0-5mm separated by the screening systems is firstly cleaned by their respective sand washing systems, then dewatered by the dewatering screen, and finally stored in the finished product shed.
One-card-controlled loading system
Intelligently controlling the entire process of vehicle from weighing to loading and delivery can simplify the process and integrate the corresponding information system and automatic system, so as to reduce manual operations and comprehensively improve delivery efficiency and customer satisfaction.