Company News
Chaeng is recognized as "high-tech enterprise"
By
Apr 03, 2018 UTC+8
Views:
Tags:

Chaeng

is

recognized

as

"high-tech

enterprise

"
Chaeng was recognized as a "high-tech enterprise" and was awarded a high-tech enterprise certificate (certificate) by the high-tech enterprise implemented by the Henan Science and Technology Department, Henan Provincial Department of Finance, Henan Provincial State Taxation Bureau, and Henan Provincial Local Taxation Bureau. No.: GR201741000717)
The recognition of high-tech enterprises is a comprehensive review of the core intellectual property rights, the ability to transform scientific and technological achievements, the level of management of research and development, and growth indicators. The recognition of "high-tech enterprises" is a high degree of recognition for the strength of chaeng scientific research, and it is also an incentive and spur to chaeng R & D and innovation.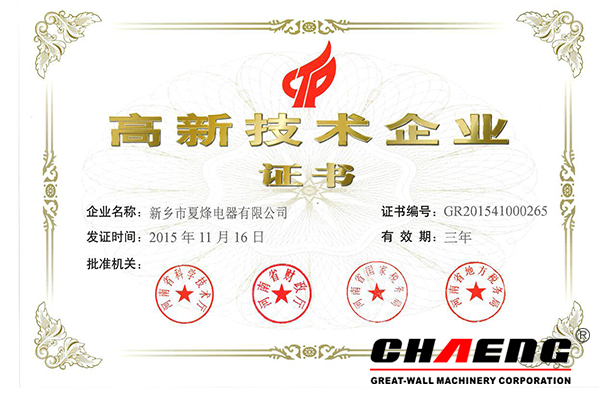 In the course of 60 years of development, chaeng has continuously broken through and dared to surpass and achieved breakthroughs in a number of technological innovations. The technology and quality of its products have been gradually improved. The large rotary kiln and grinding equipment wins the market with high quality. In particular, in recent years, chaeng has continuously innovated the GRM series of vertical mills, which has resulted in the excellent performance of the GRM series vertical mills in energy saving and environmental protection. It has been favored by customers and applied to over 100 slag powder/cement production lines. Market performance is strong.
In the future, chaeng will continue to pay attention to the investment in scientific and technological R&D, enhance the company's scientific research strength, improve its technological innovation capabilities, and seize market opportunities through innovation and practice.