Company News
Dry and wet process cement clinker grinding plant
By
Oct 10, 2015 UTC+8
Views:
Tags:

Dry

and

wet

process

cement

clinker

grinding

plant
1. Production process of cement
A cement clinker grinding plant consists of the following three processes.
(1). Raw material process
(2). Clinker burning process
(3). Finish grinding process
The raw material process and the clinker burning process are each classified into the wet process and the dry process.The raw material process and the clinker burning process are each classified into the wet process.In the dry process, crushed raw materials are dried in a cylindrical rotary drier having a diameter of 2 m and a length of about 20 m for example, mixed by an automatic weigher, ground and placedin storage tanks. The resultant mixture is further mixed to make the ingredients uniform, and sentto a rotary kiln for clinker burning.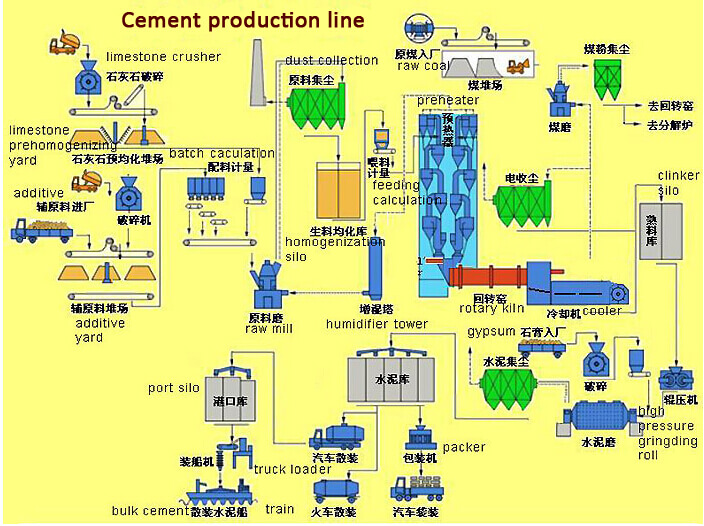 PIC1.Cement production process
2.Raw material process
(1).Wet process
Since raw materials can be homogenized and the mixing ratio can be corrected after grinding, this process is relatively simple.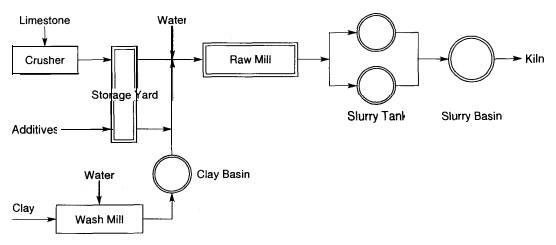 PIC2.Wet process raw material grinding system
(2).Dry process
PIC3 shows three processes a, b and c. Raw materials received by a plant contain a small amount of water. Limestone contains 2 to 5% of water and clay about 5 to 10%. The dry process needs to evaporate water when grinding. In PIC3, process a is provided with an independent dryer to evaporate water, and the dryer may be a rapid dryer or impact dryer with a disintegrating or crushing function instead of the rotary dryer as illustrated. - 4 - In PIC3, process b is a closed circuit grinding process combining an air separator and a ball mill or tube mill, which is provided with drying function. The above mill and separator are available in several types. In PIC3, process c is an example of vertical roller mill. For drying, exhaust gas from the kiln and preheater is used, but sometimes a hot gas generator is installed for a time of commissioning of the plant and for a time of year when water contained in raw materials increases.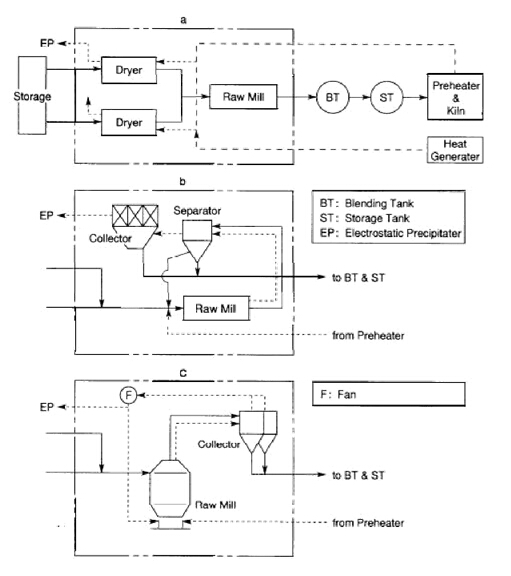 PIC3.Wet process raw material grinding system
As A leading Cement Plants Manufacturer Great Wall MachineryCo.,LTD offer all type of quality Turnkey Cement Plants, setup machineries, cement clinker grinding plant equipments, heavy industries setup and fertilizer plants. besides cement plants,we also known for industrial gears supplier and equipments manufacturerslike vertical mill, ball mills, rotary kilns, belt conveyors and other material handling equipments for cement plants equipments ect.
Our Satisfied Customer Return Ratio with the support of our skilled cement clinker grinding plant expert we are successfully installing cement plants in India, Middle Asia ,South America and South African countries. With All latest cement plant equipments and material handling equipment and machines we are capable to manufacture up to 200TPD-5000 TPD cement plants.The Great Wall machinery are looking forward to your coming !