Company News
Slag powder production line turnkey-XinXiang Great Wall Machinery
By
Jul 10, 2015 UTC+8
Views:
Tags:

Slag powder production line

Vertical mill grinding system
Slag Portland cement become the international trend in the future.According to relevant data show that for nearly 10 years, the world's cement powerhouses Germany, Switzerland and other countries of the cement industry rising strength of cement, clinker useage amount general trend of decline. Future development trend of cement in Germany is still the traditional Portland cement is mixed with slag, fly ash, shale, pozzolan, limestone sintering type II of low clinker cement varieties of replaced.
Application — GGBS is necessary mixed material of large cement enterprise
Slag powder is a superior performance of concrete admixture, mixed with slag powder in cement production can improve the cement strength of 28 d 15% - 20%, 42.5 level of cement configuration; Mixed with slag powder in concrete production can replace 10 ~ 50% of cement.
Currently, tangshan jidong cement, and a number of large cement plant in henan meng electricity cement used in slag powder as cement mixed material, and greatly reduce production costs, improve the comprehensive performance and concrete in the late strength of cement has obtained the good effect.
Productive Technology — Vertical roller mill: the best choice of the slag powder production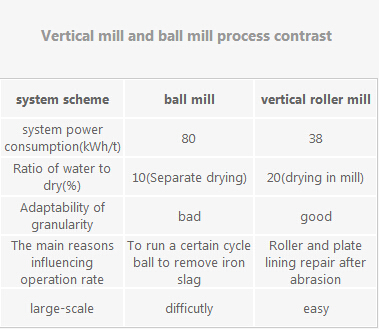 Significant energy saving effect of vertical mill machine will replace grinding ball mill energy consumption is too large

1.Vertical mill grinding system in lower production costs, energy conservation and consumption reduction, kuangfen quality, etc., are better than that of the ball mill system.
2. Vertical mill grinding system produces the type of product will win ball mill in terms of quality and price system in the production of mineral powder, its kuangfen huge competitive advantage would be preferred in cement plant, mixing station and other purchasers of best-selling products.
Great Wall machinery slag powder production line process diagram

Wet slag storage and transportation: wet slag by motor transport into the factory, the discharge hopper, belt conveyor into the slag heap tent storage and discharge material by forklift, hopper, through constant feeder measurement by belt conveyor after delivery directly to the slag vertical grinding machine, electromagnetic iron remover on belt conveyor is set in addition to iron.
Slag powder grinding and storage: wet slag by quantitative feeding said measuring directly into the roller mill by belt conveyor after feeding mouth, after drying and grinding of slag powder after long bag pulse dust collector to collect by air transport chute, winding machine into the slag powder library.
The Great Wall, slag vertical mill process of three unique advantages
1.System power consumption is less than 43 KWH/t, in line with the national energy conservation and emissions reduction, reduce the production cost
2.The introduction of Japan's UBE UBE vertical mill technology, stable performance, high output, cover an area of an area small
3.Optimize the grinding way, with the best specific surface area and particle size distribution, the slag activity of maximum play
Date of slag powder production line for slag vertical mill:

Benefit Analysis — Great Wall machinery yearly produces 600000 tons of slag powder production line