Company News
Rotary kiln working principle
By
May 27, 2015 UTC+8
Views:
Tags:

Rotary kiln manufactured
1. Rotary kiln introduction
Rotary kiln refers to rotary calciner, belongs to building material equipment. It can be divided into cement rotary kiln, metallurgy rotary kiln and lime rotary kiln. Cement rotary kiln is mainly used to calcine cement clinker, it can be divided into dry process and wet process. Metallurgy kiln is mainly used to calcine lean iron ore, bauxite, aluminium hydroxide, chrome ore etc. Lime rotary kiln is used to calcine active lime and light roasting dolomite.
2. Rotary kiln Work principle
Rotary kiln is made of steel plate, and inside the kiln body inserts refractory lining, which keeps specified inclination with horizontal line. Three tires are supported by each supporting device, around the tire at feed end uses tangential spring plate to fix big gear, under which a pinion is meshing with. During normal operation, the rotary kiln is driven by main motor through main reducer to transmit power to open gear.
Material is fed into kiln from kiln tail. Due to the slope and rotation of the cylinder, the material make a composite motion—it rolls in circumferential direction and at the same time moves in axial direction. After sintering process, the material is calcined in cement clinker and discharged into cooler machine through kiln head hood.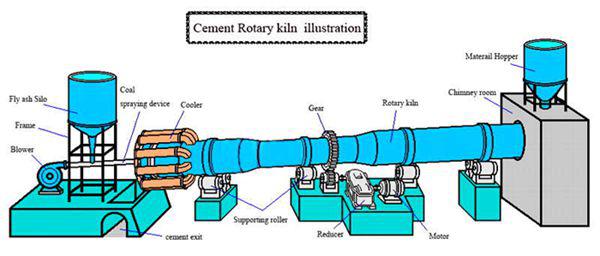 Sprayed into the kiln from the kiln head, the fuel burns in the kiln, after exchanging with the material, the generated waste is discharged from kiln tail. The burner in this design is excluding fuel.
(1) Cylinder is made of 20g and Q235-B steel plate, and it adopts automatic welding. The thickness of cylinder is 25mm, burning zone is 32mm, under kiln tire is 65mm, and transition section is 38mm, all of those not only ensure the rigidity of cross section, but also improve loading condition of supporting device. The discharged end of cylinder has guard plate with high temperature resistance and wear resistance. Kiln tail is made of length 1m 1Cr18Ni9Ti steel plate. Guard plate at kiln head and air cowl form sleeve space, blew into the kiln from horn mouth, clod air cools the non-working surface of guard plate, which makes this parts work long-term. There are three rectangular and solid tires on cylinder. The space between tire and raiser block is determined by expansion number, during normal operation, tire can cover cylinder moderate to reduce the radial deformation of cylinder.
(2) Transmission system uses single drive. Driven by adjustable frequency motor, hard tooth surface and three-level cylinder gear speed reducer drives open gear. This transmission adopts rubber coupler in order to increase the drive stability. It is also equipped with auxiliary transmission device connected to the security power supply, which can ensure the normal operation when the main power cut off.
(3) Kiln head seal uses housing seal, labyrinth and spring steel strap double layer seal. Blew into kiln through horn mouth, cold air cools guard plate, and discharged from top after being heated. Using flexibility seal under the heat resistance spring steel strap compress the cylinder of air cow, the kiln head seal can ensure the seal function when the cylinder of kiln head has a bit deflection.
(4) Kiln tail uses the flexibility seal of steel strap and graphite. This device is easy to installation and safe to use.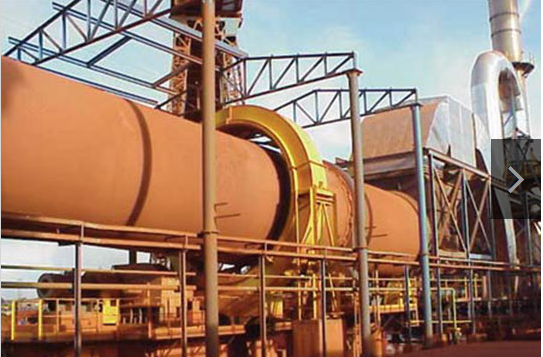 Rotary kiln manufactured by Xinxiang Great Wall Machinery can be used for cement and limestone making, and it has the characters of big output, low energy consumption and good effect.