Company News
Mr Tomohiro of UBE Visit Great Wall Machinery
By
Apr 09, 2015 UTC+8
Views:
Tags:

vertical roller mill

steel casting

Great Wall Machinery
August 31, 2012, accompanied by our chairman Wang Jizhong, vice general manager Pei Faliang and other leaders, Mr Tomohiro Mizuguchi of Japanese UBE visited Great Wall Machining, Great Wall Slag Powder, Great Wall Cast-Steel, Henan Meng Electric Group Cement Co., LTD and Great Wall Machinery.

Once entered our company, Mr Mizuguchi showed great interest in Φ8m vertical lathe, Φ6.3m vertical lathe, T6920 numerically controlled boring and milling machine, etc. He investigated the machining precision and looked at the accessories of vertical roller mill that we manufactured for Smith, Denmark. He nodded repeatedly in approval.
Then, they came to the slag powder demonstration and training base with the annual output of 600,000t via the self-made GRMS46.41 slag vertical roller mill. After investigating the components and experiencing the stability of machine, he gave us a thumbs-up. When he knew that we are the domestic first vertical roller mill manufacturer who builds the demonstration and training base with self-made product for providing the online training for operators of customers, he showed admiring eyes.
He also visited the large steel casting base. The steel casting is exported to many countries, and we realized self-sufficient totally. He was very satisfied for that.
They also came to Henan Meng Electric Group Cement Co., LTD to see the GRMR53.41 raw material vertical roller mill and the GRMS/C53.41 slag/cement vertical roller mill which is equipped with 5000t/d clinker production line. They looked at the equipment carefully from top to bottom to investigate the structure, configuration, lubrication, hydraulic pressure etc. especially the innovation on GRMS/C slag/cement vertical roller mill. When our chairman told him that the design has double effects—grinding the slag powder and the clinker, producing two kinds of products by means of one machine, the slag powder 1million ton per year, cement 1.5 million ton per year, Mr Mizuguchi said that is very good.
In the conference, Mr Mizuguchi said: I stay at Great Wall Machinery for a short time today, but I acquire a lot. Although I heard of Great Wall Machinery before, I am still very surprised when witnessing your achievement on vertical roller mill in recent years. Great Wall Machinery hasn't manufactured vertical roller mill for a long time, but the achievement is amazing. This speed of development cannot be found in Japan.
Next, UBE will strengthen cooperation with Great Wall Machinery and exchange technology to mutually boost the promotion, development and improvement of vertical roller mill.
Finally, our chairman expressed warm welcome and heartfelt thanks to Mr Mizuguchi. We will strengthen cooperation to mutually promote the application of vertical roller mill in China, realize environment-friendly production and manufacture, and make contribution to the development of Cement Plant.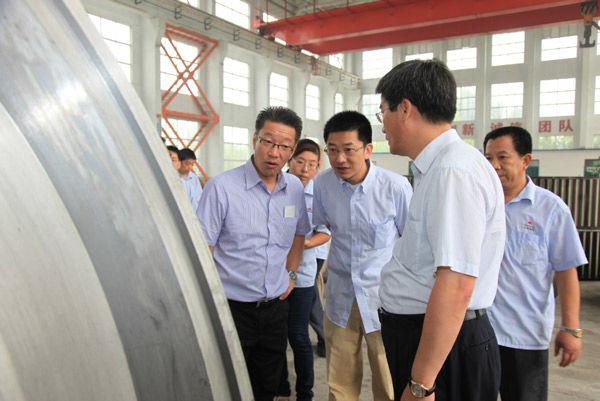 Mr Tomohiro Mizuguchi of UBE (the most left) visit Great Wall Machinery accompanied by our chairman