Company News
Shanghai Baosteel Domestic Waste Treatment Chief Expert Visited the Great Wall Machinery
By
Apr 09, 2015 UTC+8
Views:
Tags:

steel slag

vertical mill

the Great Wall Machinery
On July 16 afternoon, the well-known experts in waste utilization (slag, steel slag, nickel slag, etc.), China GGBS standard setters - Shanghai Baosteel New Building Materials Co., Ltd. Deputy General Manager Wang Caiying, a line of five people visited the Great Wall Machinery Co., in Xinxiang for investigation and guidance.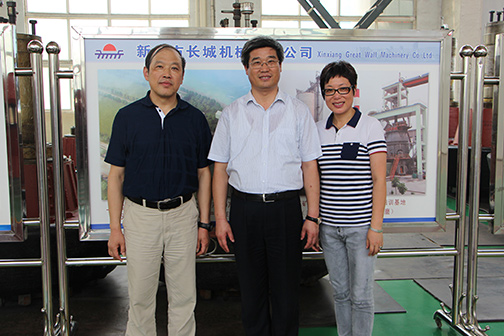 Accompanied by the Great Wall Machinery chairman Wang Jizhong, Wang Caiying visited Henan Xinxing Co. Ltd, Henan Mengdian Co. Ltd and Henan Yuhui Co. Ltd that undertaken by the Great Wall Machinery. Then they visited the Great Wall Machinery slag demonstration training base, its own large vertical mill production plant and large casting base. They got to know better about the advantage and strength of Great Wall vertical mill waste processing.
Wang Caiying detailed view and had a comprehensive understanding of the operation of the Great Wall Machinery GRMS46.41 and GRMS33.31 slag vertical mill, the performance of the structure of the device itself as well as equipment production, coal consumption. She praised the smooth running and excellent performance of vertical roller mill. Compared with Baosteel commissioned internationally renowned brand vertical mill, Great Wall vertical roller mill is more competitive.
When Wang came to the Great Wall Machinery mill production base and large casting base, they carefully checked the grinding parts components of vertical mill, and gave high praise of manufacturing, processing technology and quality. At the same time, Wang said that through this study, they had a deeper understanding of the EPC turnkey service. She praised the Great Wall is different from other manufacturers in the same industry, and that Great Wall is the real "first-rate integrated supplier of grinding system". It is absolutely the domestic first-class enterprise in the vertical mill production and comprehensive utilization of waste residue.
After the visit, Wang made a simple conclusion over this expedition: Great Wall has good mechanical equipment, rich production experience, and standard management. The uplifting spirit Great Wall presented is a rare precious. Great Wall will go forefront in the development of domestic waste treatment industry in the future. Wang also said the next step will strengthen cooperation with the Great Wall Machinery to promote the pace of domestic waste treatment, especially the common development and progress in treatment level and ability of slag, nickel slag and so on.