Industry Knowledge
introduction of Great Wall VRM
By Great wall
Aug 10, 2015 UTC+8
Views:
Tags:

air-swept mill

vertical roller mill
introduction of Great Wall VRM(vertical roller mill)
The VRM is a 2-6 roller air-swept mill design developed for continuous operation with a minimum of maintenance. The fundamental difference between the VRM and other tableroller mills is the bearing arrangement for the grinding table which is incorporated into the base of the mill. This enables an operation with a standard design gearbox instead of the typical gearboxes with integrated bearing section with long delivery times.The milling force is no longer transmitted to any foundation, but directly transferred to the roller arms making sure that civil work, erection and operation is easier to be handled and therefore much more inexpensive. Fresh feed is introduced to the mill at a controlled rate through the upper feed chute. Milling takes place between the rollers and the table as the material moves outwards. The depth of the material bed on the grinding table is adjustable which controls the retention time in the grinding zone. The ground material is entrained in the air stream which enters through tangential air ports in the base of the mill and is carried upwards to the classifier for the separation by particle size.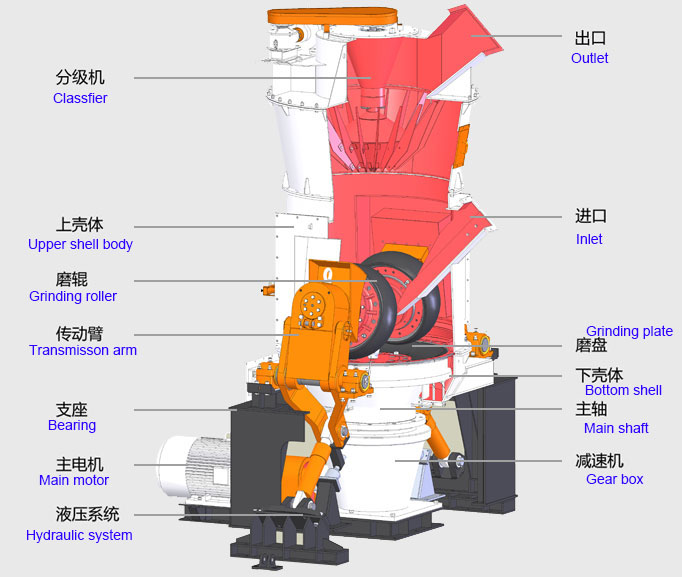 Product of the required particle size is carried through the classifier for collection in the downstream cyclone and/or filter whilst oversize material returns to the grinding zone for further size reduction with the incoming feed material.
A fan generates the airflow through the milling system and ensures dust free operation by keeping the plant under negative pressure.
Where appropriate, the incoming air stream can be heated for drying and grinding of the material at once.
In addition, a "coarse discharge screw" can be incorporated into the upper section of the mill in order to extract a proportion of the partially ground material and produce a secondary product of intermediate fineness.
The VRM roller mill by Great Wall is the solution for the fine grinding and classification of a wide variety of materials including: Calcium Carbonate, Dolomite, Talc, Bentonite, Barites, Petroleum Coke, Calcium Oxide (Burnt Lime), Gypsum, etc.
Fine Classifier TC
The newly developed TC classifier and the VRM roller mill combines perfectly for the production of fine and medium fine powders. The innovative rotor design reduces energy consumption without losing its ability to produce sharp cut points. The TC is an air stream classifier which provides an excellent precision of cut at a very low pressure drop and is ideal for economical production of fine materials in the d98 < 30 - 250μm range.
Where ultra-fine products are required the VRM is combined with ECUTEC's well established classifier and in this arrangement d98 < 6μm products are achievable.
Features
1. Robust Design
2. Bearing System Integrated into Mill Base
3. Closed Milling Force Circuit
4. Reduced Delivery Time and Competitive Pricing
5. Lower Civil and Installation Costs
6. Compact Plant Configuration
7. Sharp and very Fine Top Cut (down to d98 < 6μm)
8. Low Specific Energy Consumption
9. Low Wear Rates and easy Maintenance
10. Simple Operation
power by :www.great-wall.co