Industry Knowledge
Stainless large crusher Fixed jaw for export
By
Jun 12, 2015 UTC+8
Views:
Tags:

crusher

Fixed

jaw
Introduction of large crusher Fixed jaw
large crusher Fixed jaw is major component of large jaw crusher. It is widely used in the mine industry, chemical engineering, cement industry, steel and iron industry, etc. Great Wall Casting carries out the technology improvement and innovation in making the casting parts by summarizing our cast experience. The large movable jaw parts designed and manufactured from G reat Wall Casting are advanced.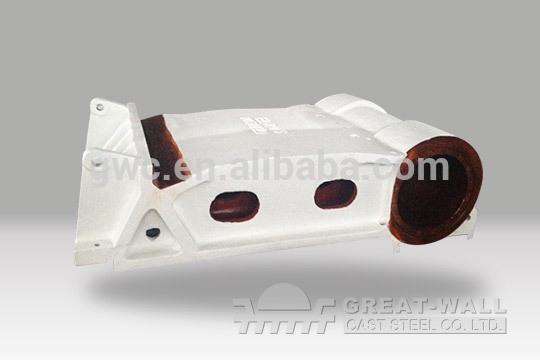 Advantages of large crusher Fixed jaw
1.We applies unique heat treatment technology, has improved the hardness and impact resistance of crush jaw. Thus, product performance is largely enhanced.
2.Crush jaws are made of high strength steel. We optimized the production of crush jaws according to operation features of mainframe, which largely secures crush jaws' stability and working life under long-time running.
3.We has strong manufacturing capacities of steel castings. We are able to abundantly produce crush jaw within a short period.
Quality assurance of large crusher Fixed jaw
The fabrication route is governed by the provisions of the implemented Quality System ISO 9001: 2000. The standard documentation ensures the full traceability of every process step:
1.Manufacturer test certificates according to DIN EN 10.204 § 3.1 including chemical composition, mechanical properties and non-destructive examination;
2.Dimensional check supported with a "as-built" sketch;
3.Record of the heat treatment chart;

Process of large crusher Fixed jaw
1. Wooden pattern Production
2. Molding
3. Pouring
4. First cleaning
5. Heat treatment – grinding (inspection)
6. Rough machining (inspection)-finishing machining (inspection)
7. Packing-delivering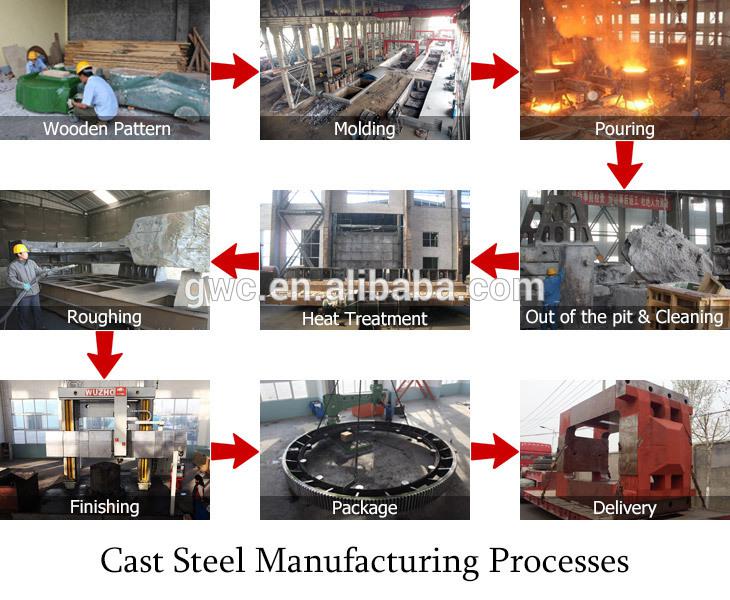 Case
Customer from Russia visited our factory in 2012.They think the movable jaws can not only perfectly match the large jaw crushers manufactured by them, but also with quality of well wear-resistant, long service life and great price. And without any other hesitation, they made their decision to sign long-term purchase contract with us at once.
A large jaw crusher manufacturer from Henan province purchased our movable jaws. Since being assembled on their product, the performance of the movable jaw is very stable.
Technical parameters of large crusher Fixed jaw
Standard Specifications for Cast Steel ZG270-500

Country

Standard

Grade

United Kingdom

BS3100

A2

USA

AISI/SAE

UNS J04000

Germany

DIN 1681

GS-60

Japan

JIS-G5101

SC480

International

ISO 3755

270-480
Weight: 5~30T
Applicable device: Large jaw crusher
Application: Mine, cement, chemical and others
Customizable: Yes