Industry Knowledge
Saving energy rotary kiln dryer
By
May 08, 2015 UTC+8
Views:
Tags:

Srotary kiln dryer

rotary kiln

Cement Rotary kiln
Introduction of rotary kiln dryer
rotary kiln dryer is composed of cylinder, gears, support device, kiln liner and kiln tail sealing equipment, kiln head hood and fuel device.As a heated pivoting part, cylinder is made of highquality carbon steel plate and supported on the support device by wheel belt. There is mechanical or hydraulic pressure catch wheel on the first or several support device in order to control the turning of cylinder. Gears make cylinder rotate according to process required rotating speed through the ring gear in the middle of cylinder. Because of the need of installation or maintenance, the bigger rotary kiln has auxiliary rotary gears, which makes cylinder gyrate more slowly. To prevent enter of cold air and dust overflow, the reliable kiln tail and head sealing equipment are installed on feed and discharge end.
Picture of rotary kiln dryer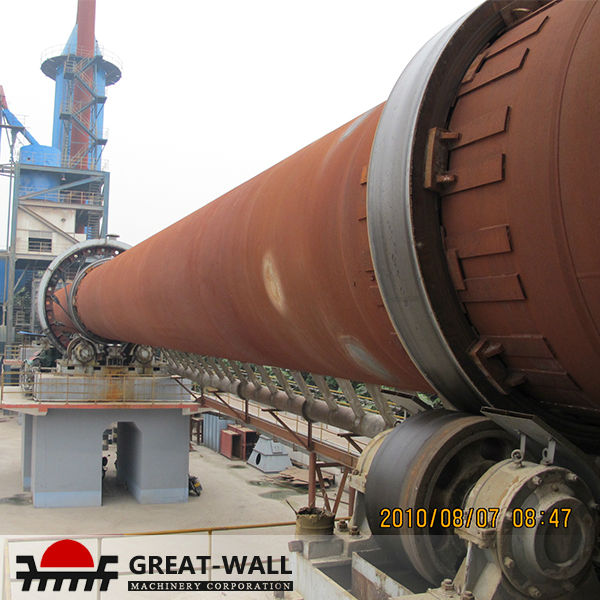 Advantage of rotary kiln dryer
1. The Cement Rotary kiln is an inclined rotary cylinder, the raw material enter the cylinder through the high end of the machine,then move in with the movement of of the rotary kiln. Therefore, the rotary kiln is a conveying equipment.
2. Rotary kiln is a combustion device.
3. Rotary kiln has the function of heat exchange.
4. Rotary kiln has the chemical reaction function.
5. The rotary kiln has the function of degrading and re-using the waste.
Working principle rotary kiln dryer
The kiln is a cylindrical vessel, inclined slightly to the horizontal, which is rotated slowly about its axis. The material to be processed is fed into the upper end of the cylinder. As the kiln rotates, material gradually moves down towards the lower end, and may undergo a certain amount of stirring and mixing. Hot gases pass along the kiln, sometimes in the same direction as the process aterial (cocurrent), but usually in the opposite direction (countercurrent). The hot gases may be generated in an external furnace, or may be generated by a flame inside the kiln. Such a flame is projected from a burnerpipe (or "firing pipe") which acts like a large bunsen burner. The fuel for this may be gas, oil or pulverized coal.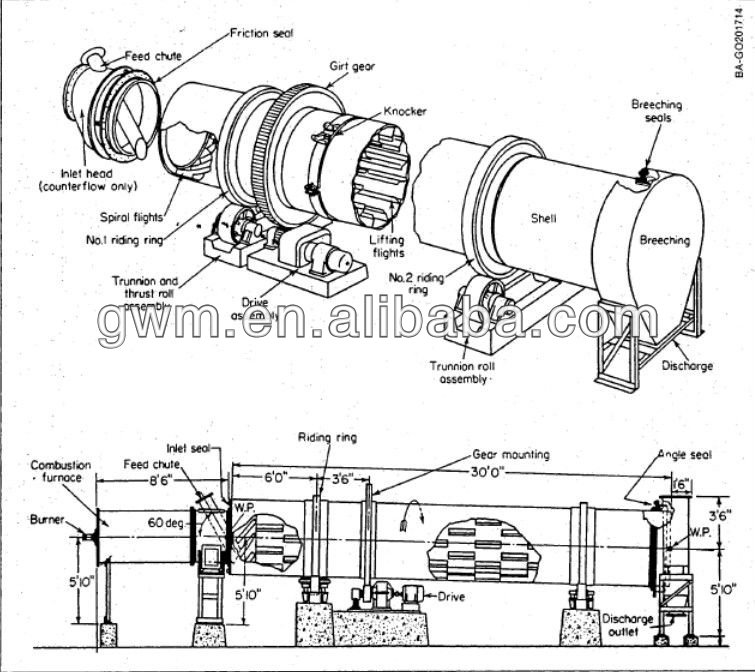 Packaging detail
Packaging Detail : The main machinery is in nude packing,and spare parts in Wooden or steel box standard export packing, suitable for long distance delivery.
Delivery Detail:within 30days after your payment
Company information

Xinxiang Great Wall Machinery Corporation, located at National Sustainable Development Experiment Area, Mengzhuang Town, Huixian City, Henan Province, China, was initially built in 1958 and restructured into limited liability Company from township collective enterprise in 2002.
The main products are:
GRM series raw material vertical mill, cement mill that can cater to below 10000t/d cement production line, and the series slag vertical mills with annual production capacity of 0.3 million ton, 0.6 million ton and 1.0 million ton.
Φ4.8m×74m、Φ4.5m×66m、Φ4.3m×66m、Φ4.2m×60m series of NSP rotary kiln
Φ4.2m×13m cement grinding mill and other ball mills
Rod mill and trellis pattern overflow mill for coal chemical industry and alumina industry; and the relevant supporting equipments for cement production lines.