Industry Reports
The hot blast furnace adopts the blast furnace gas in slag production line
By
Jun 19, 2017 UTC+8
Views:
Tags:

slag production line

slag line
The
EPC slag production line of 1.5 million t/a
composite powder of Shanghai Baosteel Ningbo Ziheng, which is contracted by CHAENG has put into production successfully.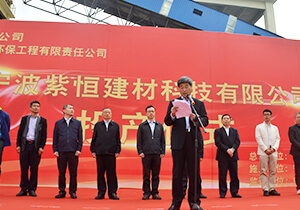 They use the GRMS46.41 slag vertical roller mill & φ3.2 x 13m steel slag ball mill, manufactured by CHAENG, as the project's main grinding process equipment, which has high production efficiency and obvious effects in environmental protection and energy saving.
The slag grinding plant Process highlights



The hot blast furnace of this production line adopts the blast furnace gas discharged from the steel mill. Blast furnace gas has the features of strong toxicity, low calorific value, and mostly released into the air, so the recycling of blast furnace gas in slag grinding plant minimizes the pollution to the surrounding environment, also dispense the high environmental taxes. The recycle of blast furnace gas can realize the double benefit of economy and environment.