Company News
High Efficiency Cement Bag Packing Machine
By
Jun 29, 2020 UTC+8
Views:
Tags:

cement rotary kiln

cement packer

CHAENG
The automatic high
cement bag packing machine
adopts the teflon cushion to add a small amount of air to the material, making the material flowing way of feeding to the machine. When the material gets into fluidized state and reaches high-level position, the top valve is closed. Then the material gets into a closed state and then flows from the outlet to the packaging bags. With cooperation of mechanical and electric control elements, the material is packaged and controlled to the target weight scope. The machine has combined automatic arch breaking, measuring, filling and sealing into an integral, which greatly reduces the subsequent work load and reduces dust in the packing process.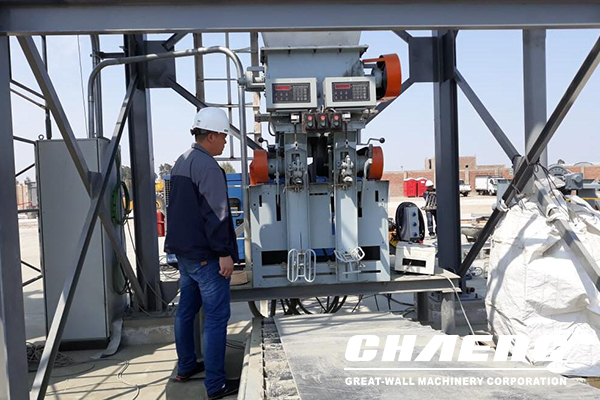 Features and characters of MG automatic packaging machine:
1. Full automatic microcomputer control, computer intelligent automatic identification. High sensitivity, stable performance, strong anti-interference ability, accurate weighing.
2. The filling nozzle can be equipped with a jacketed double nozzle
3. The feed end is equipped with a pressure maintaining bin, the top of which is provided with a pneumatic butterfly valve or a pneumatic plug valve, so as to ensure the filling rate of the pressure chamber and improve the reliability of the quantitative accuracy
4. The machine can automatically realize the functions of bag pressing, filling, closing and dropping, and the operation is simple.
5. The machine has a built-in dust collector, reducing the dust in the environment, which is good for both the operators and the environment.
6. The packing speed is fast and the precision is stable
7. The operation is simple: when you put the valve bag at the valve port and activate the signal activation, the loading and weighing starts until all finished it stops automatically
8. Low failure rate and low maintenance cost