Company News
Paying special attention to implementation, creating good results and achieving new breakthroughs of development
By
Jan 06, 2020 UTC+8
Views:
Paying special attention to implementation, creating good results and achieving new breakthroughs of development
---the speech to welcome the New Year
Chairman: Wang Jizhong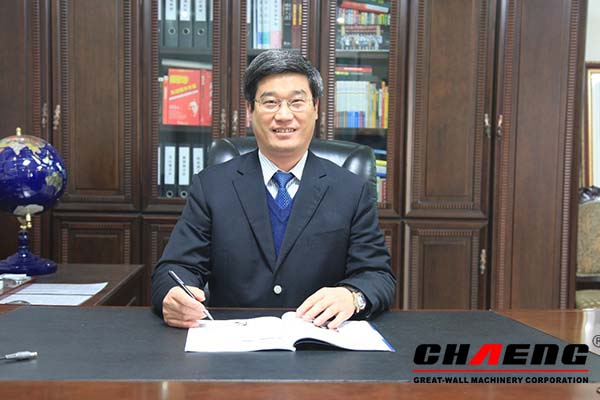 How time flies! We have ushered in the first twenty years of the new century---2020. On this festive occasion, I would like to wish all of our staff happy new year! And I also wish our partners all over the world good luck in everything!
2019 was our company's 60th birthday, in the past year, we strengthened confidence, kept up our spirits, worked hard and innovated continuously in the face of the hard constrains of environment and uncertainty of development, which helped us achieve high-speed growth in various economic indicators, leap to a new level in the the scale and benefits. An also we have taken a solid step on the road to creating a "tens of billions of CHAENG and Centenary Dreams of CHAENG", and presented a beautiful report card to the 70th anniversary of the founding of the People's Republic of China.
Lucid waters and lush mountains are invaluable asserts. CHAENG has committed to contribute plans in promoting green manufacturing, achieving green development, and fulfilling the mission of environmentally friendly builders. And also, we focused on the industrial slag resource utilization, especially the iron and steel enterprises' waste residue, adhered to principles that productivity and benefits is from science and technology. As a result, on the basis of consolidating and improving the slag resource utilization scheme, CHANEG has stayed ahead in the steel slag resource utilization, which helps us to provide a successful solutions to achieve Zero emissions from industrial waste. In accordance with the principles of greening, intensification, large-scale and intelligentization, we have developed and built the 5,000,000 y/a river pebble (hard rock) fine sand aggregate production line demonstration training base, which helps us realize the development and governance synergy, promote high-quality development and practice the concept of ecological priority and green development. On the exploitation and utilization of coalbed methane, with the help of our system solution, we improved our production and mining ability, and achieved green development and utilization. In 2019, we invested more than 2,0000,000 yuan to transform and upgrade environmental protection, which helped to take the capacity and level of green manufacturing to new heights. CHAENG has been awarded as "verdurization model units in Henan Province" and "forest Xinxiang -- gardencourt enterprise ".
We should inherit cultures of CHAENG, practice craftsman spirit, see the world abroad, improve CHAENG's popularity, reputation and brand influence. It is difficult and urgency to build an annual output of 5 million tons of river pebble (hard rock) fine sand aggregate production line demonstration training base, so all of our members should use our wisdom and strength, work together, ready for the storm and sunburnt days, carry forward the spirits of "words must mean something,the plan must be carried out and overcome all difficulties". Finally, through scientific organization and meticulous construction and working hardly and ingeniously, we finished building the river pebble (hard rock) fine sand aggregate production line demonstration training base at the fastest speed, which meant that impossible is possible, enriched and sublimated the CHANEG's spirits of "don't say no, just find something that works" which will stimulate us to step forward and race to the top! With more and more products and EPC settled abroad, CHAENG's slag pots and rolling mill housings have won the 17th GIFA quality castings gold metal, and also our value of exports achieved new breakthrough. As a result, CHAENG has won the nomination of "specialized, fined, peculiar and new" middle and small-sized enterprise in Henan Province, and the first new type of apprenticeship training pilot enterprise. And CAHENG has carried out the first training class named "cultivating craftsmanship spirit", our craftsmen team is develop and grow stronger.We constantly improved group governance mechanism, strengthened enterprise management, refined enterprise culture, at the same time, we also always remembered and shoulder our social responsibility by setting up CHAENG educational fund and poverty alleviation fund, which showed our great love and responsibility.
In 2020, our work guiding ideology includes: carrying out the new development concept, remembering that innovation is the soul, quality is foundation, marketing is breakthrough, project is power, talent is support, optimizing mechanism, motivating vigor, focusing on our main business, preventing and controlling risks, constantly achieving high quality development, and making new contributions to build the "tens of billions of CHAENG and Centenary Dreams of CHAENG". And in 2020, our working goal is to complete the"2011 project" and achieve the new spanning. So we should focus on five key works.
Focusing on the marketing work. We should make the marketing programme and scheme, strengthen the construction and management of our marketing team. Through constantly systematic training, we can improve the marketing ability. We should also focus on advantaged industries and high quality products and customers, cooperate with technical team, so that wen can improve our delivery ability, go abroad and engage with the world. With focusing on the value creation , more and more clients can share our innovative products and service, so that we can solve our clients' pain points and problems, help them to success, and achieve self development.
Focusing on research and development. The development of CHAENG should rely on high quality products but not more products, be motivated by technological innovation but not more capital investment. We should see the research, development, innovation and craftsman spirits as the key points in survival and development, and see the value creation as the key foundation of the enterprise. It is so-called that innovation is the soul, quality is foundation. We should be aimed to enhance core competitiveness of enterprise, strive to resolve the core key technologies bottleneck, improve the application, strengthen promotion, form scale quickly, promote the organic combination of innovation chain, industry chain, capital chain and talent chain, upgrade our brand influence and build the competitive advantage. To research and develop the new products and systems, we should optimize our technology, perfect our product design and improve automation,digitization and scale application standards. We should also build the innovative platform better, inspire innovative energy of our staff, strengthen innovation capabilities, gather innovative talents, implement digital design projects, improve our research and development ability and delivery ability, enhance our core competitiveness and sustainable development capacity.
Supported by management promotion, we should focus on high-quality development. To achieve this goal, we should optimize and strengthen the management by objectives, insist on the principle that quality first and benefits first, mainly administrate and assess net income, cash flow, revenue and research and development input, promote the rapid increase in magnitude and steadily enhance in quality, so that we can have growing profits and earnings, and improve our management quality.
Focusing on talents and implementing the strategy of talent development. To do this we should better focus on bringing in needed talents especially the management of talents, achieve that talents can lead and support all the work, and promote high quality development through high quality talents.
To better do this year's work, we should guarantee the implementation of the act efficiently. We should focus all our time and energy on development and guaranteeing the implementation of the act efficiently. We should also carry forward the spirits of three principles, always stay motivated, pay attention to key points, focus on mechanism and projects, concentrate your mind on the matter, show your ability in doing well, keep your eyes on success, guarantee the implementation of the act efficiently with the spirit of driving in a nail, create CHAENG's better future with all of our staff's industrious work and wisdom, stride forward on the road of building "tens of billions of CHAENG and Centenary Dreams of CHAENG".
Finally, sincerely wish all the staff and their families happiness and good health in the new year! Thanks!