Company News
How much do you invest in the equipment of slag powder production line?
By
Oct 23, 2018 UTC+8
Views:
Tags:

How

much

do

you

invest

in

the

equipment

of

slag

powder

production

line?
CHAENG is the world-class slag grinding system integrated service supplier, specially providing the "turnkey" service of daily output of 20-120 tons of slag powder production line, steel slag powder production line and nickel slag powder production line for customers in china and abroad. Currently, CHAENG has own more than 100 projects of slag powder/ steel slag powder/ nickel slag powder production line worldwide including Growth Steel Group, Hebei Aosen Group, Shanghai Baosteel Group, Henan Mengdian Group, etc. CHAENG has been the leading brand of GGBS turnkey project!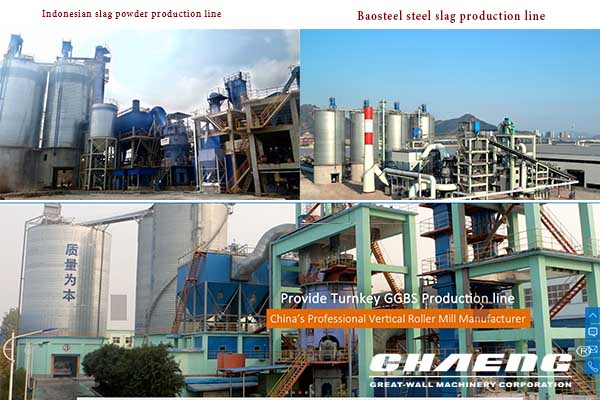 How does CHAENG expand the market step by step? For this question, we must mention that in order to popularize slag powder production line, Great Wall Machinery invests RMB 50 million in 2010 and constructs a yearly output of 0.6 million tons slag powder production line by itself.
The showcase production line of CHAENG produces 0.6 million tons slag powder yearly, main product of which is S95 slag powder. GRMS46.41 vertical roller mill manufactured by great wall machinery is used in this production line, which introduces the technology of Tianjin Design Institute, adopts international advanced and proven vertical mill process integrating drying, grinding and powder selecting and applies DCS remote central control system equipped with efficient and energy-saving dust collector and equipment. Dust content in stack gas is lower than that of national emission standard and process technology and equipment has reached the international advanced level.

How much do you need to invest a slag powder production line? Please click and consult online customer service on the right side.
Well, how does the quality of slag powder produced by the slag powder production line of CHAENG?
| Product Specification | GRMS 53.41 | GRMS 46.41 | GRMS 33.31 |
| --- | --- | --- | --- |
| Annual production (tons) | 1,000,000 | 600,000 | 300,000 |
| Designed production (t/h) | 150 | 90 | 45 |
| Raw materials input amount (t/h) | 188 | 125 | 65 |
| Actual output (t/h) | 160 | 105 | 55 |
| Final products fineness (m²/Kg) | 500 | 500 | 500 |
| Power consumption (KWh/t) | 26.5 | 28.5 | 30 |
| System power consumption (KWh/t) | 35 | 37 | 42 |
| Coal consumption (equivaient to standard coal) (kg) | 17 | 18 | 18 |
| Metal recovery of per ton slag (%) | 0.2-0.3 | 0.2-0.3 | 0.2-0.3 |
According to the head of CHAENG, slag powder is mainly used to be blended with cement and concrete to enhance the long-term strength of cement and concrete and improve the appearance of concrete, making it smooth and high brightness. It realizes the recycling and value-added exploitation of smelting waste of iron and steel enterprises and no longer consumes new resources, which is a green environmental new type building material product.
Pouring quantity of concrete of construction in process which GGBS manufactured by CHAENG and used to is accumulated up to 0.03 million cubic meters.