Company News
Energy-saving environmentally friendly quartz stone grinding equipment - quartz stone vertical mill
By
Mar 06, 2018 UTC+8
Views:
Tags:

quartz stone vertical mill

slag mill
In order to meet the current demand for quartz sand (powder) processing and production, Chaeng introduced the most advanced energy-saving and efficient quartz stone (powder) vertical superfine mill - quartz stone mill. Chaeng quartz stone vertical mill can not only achieve high yield and high energy, meet the requirements of large-scale production of quartz sand (powder), and its comprehensive performance index is superior to other ball mill + classifier production process, the fineness of 80umR reached 12% -15% Meet the market demand for high-grade quartz (powder).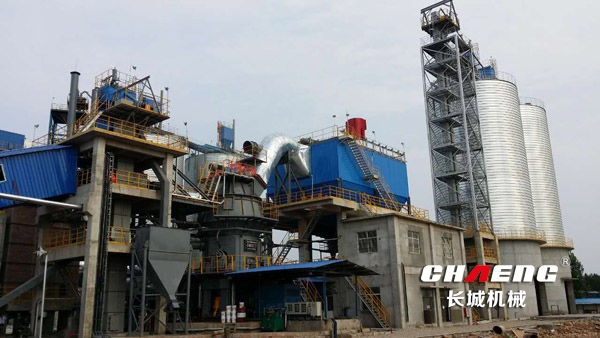 Chaeng machinery quartz stone vertical mill advantage:
1. Vertical mill system to replace the traditional complex production technology, simple and efficient
Traditional quartz stone (powder) production system using ball mill + classifier production grinding process, the use of more stand-alone equipment, the process is more complex, stand-alone equipment to control their own operation trouble easy to misuse, poor product quality stability. The quartz stone mill set crushing, grinding, powder, drying and conveying as a whole, the production process is simple, efficient and easy to operate and control to ensure product quality.
2. High yield and high energy to meet the needs of large-scale production enterprises
Many quartz sand (powder) manufacturers on the market small scale, low grade products, it is difficult to meet the large-scale production, in order to reduce production costs and improve product quality, in line with changes in market demand. Chaeng quartz stone mill, grinding efficiency, low energy consumption, to meet the needs of large-scale production enterprises, improve economic efficiency.
3. Energy consumption is much lower than the traditional ball mill + classifier production line
Chaeng quartz stone vertical mill single power consumption than the ball mill power consumption reduced by 30%, energy-saving effect is obvious, reducing production costs.
4. Energy-saving and environmental protection, to achieve green economic development
Quartz (powder) vertical mill system in a closed-loop system, no dust pollution, exhaust fan exhaust gas to meet the environmental requirements of clean gas.
5. Nearly 60 years of vertical mill technology precipitation, to protect the equipment performance and trouble-free operation
Chaeng quartz stone mill production equipment selection of high-quality carbon structural steel, in strict accordance with the drawings, according to process, according to standard requirements to ensure on-site operation safe, reliable and efficient, and effectively solve the single low output, serious wear and tear of equipment, short life expectancy The problem
Chaeng is committed to building industry-specific grinding system integrated service brand, adhere to the "customer satisfaction is our eternal pursuit of" business philosophy, devaluation industry "Three Hearts" principle of service, to provide customers with pre-sale, after-sale, sale One-stop total service solutions, the real customer experience "choose to rest assured that the use of peace of mind, service comfortable"