Company News
Chaeng slag vertical mill/slag mill/roller mill
By
Jul 25, 2017 UTC+8
Views:
Tags:

slag vertical mill

slag mill
CHAENG GRMS slag vertical roller mill integrates the functions of fine crushing, grinding, drying, powder selecting and conveying, with the advantages of high grinding efficiency, strong drying capacity.

1. Reduce investment costs, intelligent control
GRMS integrates the functions of crushing, grinding, drying, separating and conveying, with compact structure, covering an area of approximately 50% of that of ball mill system. And it can be laid outdoors, so that investment cost is greatly reduced; it is equipped with PLC/DCS automatic control system, can realize remote control and simple operation.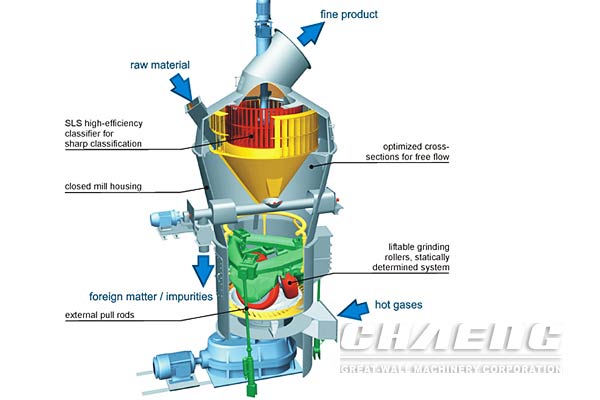 2. Adjust fineness according to demands
A new efficient cage-shaped rotor separator ensures the finished surface area can be adjusted flexibly in the range of 400~550 ㎡/kg, to meet customer different requirements on fineness.
3. Power consumption per set of GRMS is not more than 30Kwh
The horizontal grinding table and conical grinding roller are adopted to ensure the material to form a stable material bed. The energy consumption is low, saving 30% - 40% compared with the ball milling system;
| Specifications | GRMS53.41 slag vertical roller mill | GRMS46.41 slag vertical roller mill | GRMS33.31 slag vertical roller mill |
| --- | --- | --- | --- |
| Designed output | 150 | 90 | 45 |
| Actual output | 160 | 105 | 55 |
| Finished fineness (㎡/Kg) | 430 | 430 | 430 |
| Power consumption (KWh/t) | 26.5 | 28.5 | 30 |
| System power consumption (KWh/t) | 35 | 37 | 42 |
| Metal recovery rate of per-ton slag (%) | 0.2-0.3 | 0.2-0.3 | 0.2-0.3 |
4. Remarkable energy-saving and environmental protection, convenient maintenance
The system is in the state of negative pressure, no dust overflow. Environment is clean, meeting the environmental protection requirements; through the maintenance of the oil cylinder, turning the rocker arm to replace the roller sleeve and lining plate is convenient and fast, so as to reduce downtime losses.
5. Original spare parts to reduce maintenance worries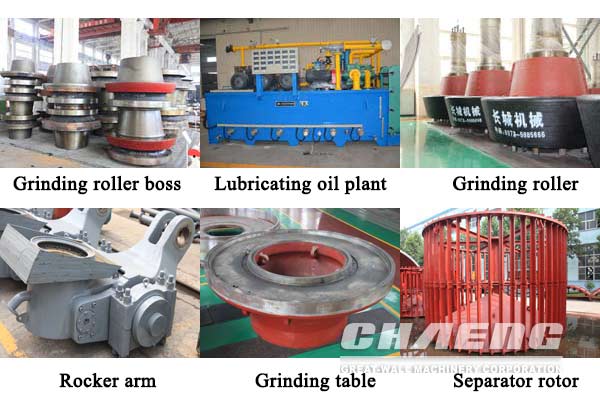 Grinding rollers, rocker arms and other spare parts in the whole system are manufactured by CHAENG originally, ensuring the quality and greatly reducing the customer's worries of no where to find the spare parts.
6. Metal recovery rate of per-ton slag is great
Special design of the iron removal device can make pig iron recovery rate reach 0.2-0.3%, so that the per-ton production of slag can get higher metal income, and to avoid the metal "enrichment" phenomenon, reduce the consumption of wearing parts and decrease maintenance costs.
Invest:
Referring to the investment income of GRMS46.41 made by CHAENG, it is can be known that annual benefits can reach 18,000,000 yuan.
CHAENG self-built annual output of 600,000 tons of slag powder production line investment return (put into operation in April 2011)
Investment calculation
total investment
50 million
Cost calculation
raw material cost
70 yuan / ton
Production costs (wages, electricity, coal, maintenance costs, etc.)
50 yuan / ton
Profit calculation
per Ton of profits ×annual output
40 × 60 million = 24 million
Economic benefits
2 years to recover all the investment (currently in full profit status)
Mineral quality
Specific surface area
500 ㎡ / kg
7d activity index
Can reach about 100%
Activity index
GB above S95 level
CHAENG provide EPC- turnkey service including research report, engineering design, manufacture, civil engineer, installation and commissioning and until achieves the designing capacity and production standard.
About CHAENG
Founded in 1958 and located in Xinxiang, Henan province, CHAENG with 60-year experience in equipment manufacturing covers an area of 330,000 m2 and its annual production value is 1 billion yuan. The company specializes in manufacturing tube mills, rotary kilns, vertical mills and large steel casting and can undertake the EPC projects of cement production lines, active lime production lines, blast furnace slag/ steel slag/ nickel slag grinding plants, and its products are sold to more than 50 countries and regions in Southeast Asia, Central Asia, South Asia, North America, South America and Europe.
Our long-term strategic partners:



Arcelor Mittal, Tata Group, Pohang Iron and Steel Company, Germany CCE, Japan Chiba , Shanghai Baosteel,Voestalpine and ASGT.