Company News
Magnesium Oxide rotary kiln / Dolomite kiln / Magnesite kiln / Titanium dioxide rotary kiln
By
Sep 28, 2015 UTC+8
Views:
Tags:

rotary

kiln
Raw material:Magnesite, dolomite
Product introduction:
The dolomite calcined by Great wall machinery magnesium oxide rotary kiln are well selected for most of the magnesium oxide plants, with a number of advantages such as high capacity, high degree of mechanization, easy maintenance, high activity, low burning loss, high ratio of magnesium extraction and silicon utilization.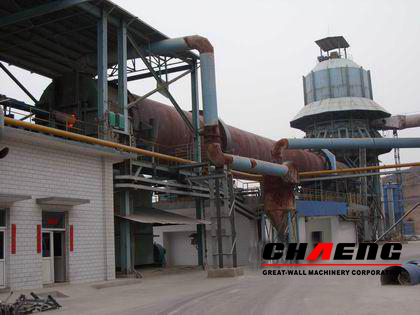 Performance features:
(1)By using 3D design and simulation, the design and structure of main parts are optimized so as to reasonable and safe working status.
(2)Top grade raw material and processing technology leads stable and reliable running.
(3)Easy, flexible and reliable operating.
Working principle:
A whole set of magnesium oxide rotary kiln involves rotating cylinder, supporting device, belt pulley kiln head, tail sealing device, coal spraying pipe devices and so on. The kiln body installs in a certain angle with sea level, supported by roller, and also gear wheels controlling the up and down movement of kiln body. For the transmission part, besides the main drive, the auxiliary drive devices, which can continuously ensue running and avoid deforming, are included in case of main power supply interrupt. The clam shell seal on kiln head and axial contact sealing device on kiln tail ensure the sealing reliability for the whole machine.