Company News
The composition and characteristics of Great Wall Cement Production Line
By
Apr 09, 2015 UTC+8
Views:
Tags:

Cement Production Line

Rotary Kiln

Cement Mill
Cement Production Line mainly contains material crushing, homogenizing, preheating decomposition, calcined cement clinker, cement grinding, finished product packing and so on, the composition of Cement Production Line mainly contains Rotary Kiln,Cement Mill, Cyclone Preheater, Cooler and so on. On Cement Production Line, the correct Cement Mill selection and the reasonable technological process are important guarantee on the cement production line.
On the Cement Production Line, Rotary Kiln is very important, the composition of Rotary Kiln mainly contains Roller kiln head, activities, support equipment, transmission equipment, sealing device, burning device and so on. Great Wall Rotary Kiln has simple operation, reasonable structure, smooth operation, easy handling during production process, so it's your best choice.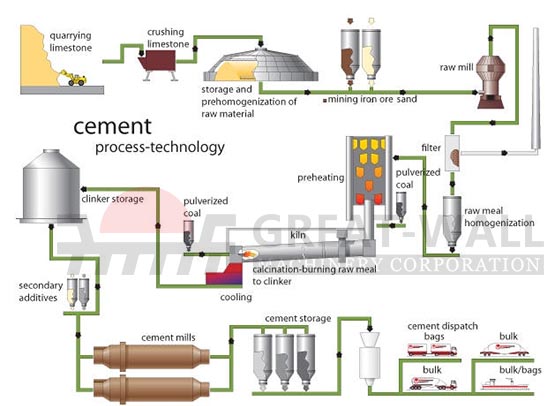 In addition, on the Cement Production Line, cement grinding is also an important step, and it is also the end process of production line. Its main function is to cement clinker grinding to a suitable fineness, developing a certain grain size distribution, in order to accelerate the hydration speed and satisfy the requirement of hardening. In this step, You can choose the appropriate vertical cement mill and ball mill according to their own needs. Great Wall is engaged in cement grinding research and production for 60 years, No matter from the design and use, it can make the customers get the maximum energy saving and time saving.
At last, I want to tell you, the Great Wall machinery factory has a service concept which is customer satisfaction for years. The cement plant provides a very wonderful cement production line for the general customers, which has high degree of automation, environmental protection, large industrial waste utilization and high production efficiency. Welcome to our Great Wall!